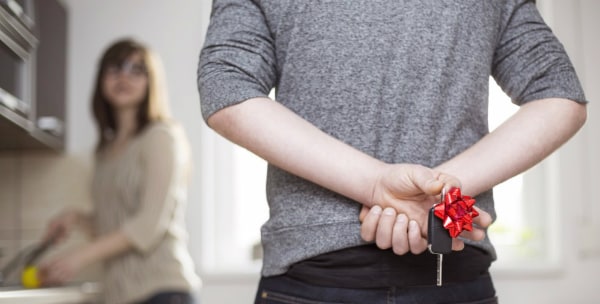 Whether you finished your Christmas shopping the weekend after Thanksgiving or you're still on the prowl for the perfect gift, it's never a bad idea to pick up something extra for the motorhead—or commuter—in your life. For those who aren't well-versed on the ins and outs of the automotive world, our Cincinnati used car dealer has put together a quick list of ideas for you. These are designed to make the driving experience easier, more entertaining, and more rewarding every time!
Clever Gifts for Every Driver
Cell Phone Air Vent Holder: Clip this device into your car vent within your line of sight, pop your compatible smartphone in there, and then try to forget about the dangerous drives you spent looking down into your lap for GPS directions from your phone. This makes it easy to access your favorite features without needing an in-car infotainment system, all without your eyes leaving the road.
Glove Box Car Jump Starter: Relying on other drivers to jump start your car when you encounter the misfortune of a dead battery can be aggravating. This jump starter fits in your glove box, plugs into your vehicle's cigarette lighter, and uses internal wiring to gather the electricity needed to jumpstart your car, truck, van, or SUV. This is the perfect pick for used car drivers in Cincinnati who'd like a little more peace of mind on every drive!
Heated Massage Cushion: This portable pad that goes on top of the seat is perfect for your loved one's long commute, especially as winter sets in. It's a great way to get a new-car amenity while still paying used-car prices.
These are our top three picks to optimize every drive. There's no reason for the dedicated driver in your life to be uncomfortable or inconvenienced! Of course, if your loved one is a thorough enthusiast, you can always visit Jake Sweeney Used Car Superstore and browse our selection of parts and accessories. Happy holidays from all of us at Jake Sweeney!